Boris Proietti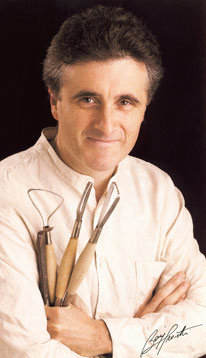 Living and working in the Como province, BORIS PROIETTI is a vocational ceramist,born in 1960 in Great Britain. After attending the Architecture faculty in Milano, he starts experimenting with ceramic art with its different manufacturing techniques.
From 1982, he starts a long journey of hard work and research to develop the characteristics of clay in order to extend its use realizing design furniture of large dimensions and great visual impact.
He creates the TETHIS laboratory that, with versatility in its execution as it is typical of artisan workshops, highlights the unexplored potentials, both decorative and functionals, of clay materials. He blends artistic and technical abilities to produce both sculpture and architectural details.
Download curriculum vitae